This post may have affiliate links. We earn a comission if you make a purchase at no additional cost to you.
So long does it take for a cat to adjust to a new home? Are there things we can do to speed up the process? On average, most kittens adapt the quickest to a new home, only needing about 2-3 days to be comfortable in their environment. Adult cats can take up to a week before they fully adapt to the new environment. With a few preparations and skills – cat parents can drastically reduce the time they need to adjust and begin to create a long-lasting bond with feline family members.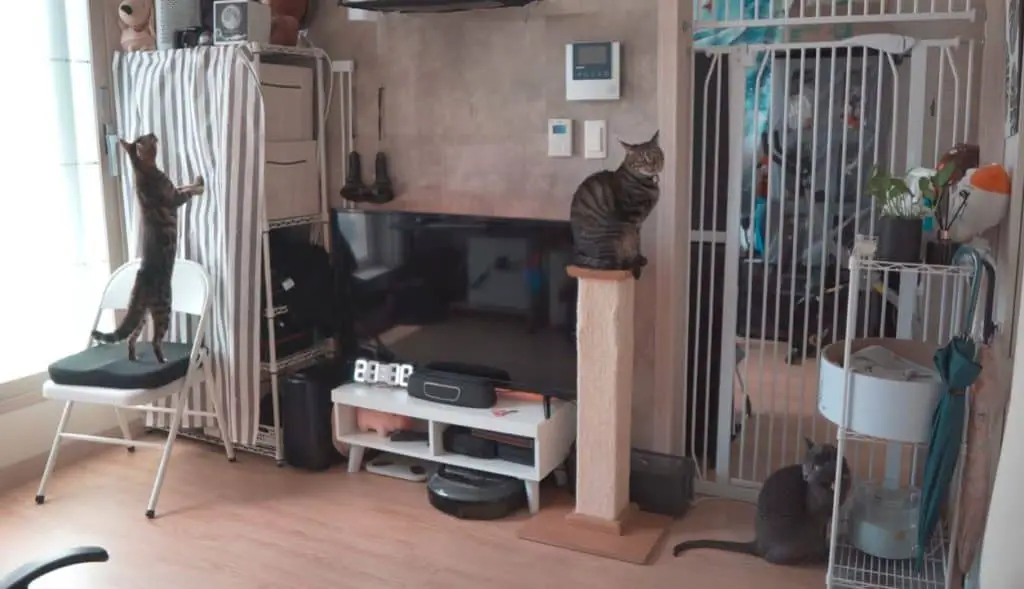 There is nothing more exciting than a new cat or kitten in the house, but if your cat has trouble adjusting to the new environment, it can also cause a lot of anxiety and stress for you and your family. Change is hard for everyone, especially for a new owner. This article will help you to take action to comfort your cat or kitten during periods of significant change.
Note: this guide assumes that the cats are healthy and have been checked by the vet to ensure there aren't any underlying conditions. This guide also assumes that a cat's necessary items are available: scratching post, litter box, toys, water bowls, cat appropriate food, etc.
In the sections below, you'll find tips on how to make the transition for cats as easy as possible, as well as a chart that can help you estimate how long it will take your cats or kittens to adapt to changes. Suppose you're introducing a new cat in a home with multiple cats. In that case, I have a complete illustrated guide here to make your experience as easy as possible: Cat Introductions With Illustrations!
Cat Adjustment Time VS Cat Age: Quick Glance Chart
Although these times can vary, the information in the chart reflects the general statistics I've recorded over years of working with cats and introducing them to new environments and homes. The chart also considers the cat's age and provides an approximate adjustment time for each situation.
| Cat Age | Expected Introduction Time (With Environmental Preparations) | Expected Introduction Time (Without Any Environmental Preparations) |
| --- | --- | --- |
| Most Kittens (Under 6-7 months of age) | 2-3 days | 3-5 days |
| Domestic Adult Cats (1+ Years) | 3-5 days | 5 days-1 week |
| Domestic Mature Adult Cats (7+ Years) | Several days | Several days |
| Domestic Senior Older Cats (10+ Years) | Several days to weeks | Several days to weeks |
| Feral or Stray Cats | Add an additional 4-7 days | Depending on the cat, add up to 1 week |
Table 1. Age of Cat and Expected Adjustment Times.
Looking at the chart, the difference between the home or room with the environmental preparations and the place without environmental preparations is quite drastic. Additionally, it's clear that the older the cat, the more time it takes to adjust to its environment.
So even though the preparations might take some effort, it saves a lot of time in the long run, in some cases cutting the adjustment or introduction time in half.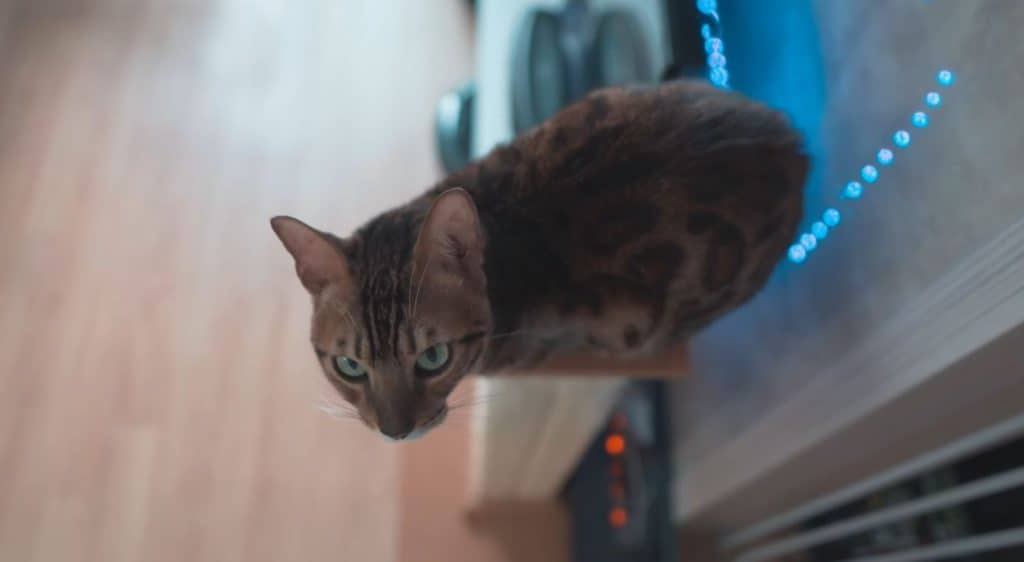 Feral or stray cats that haven't had proper socialization might take longer as it might be their first time in a home, or it's been a long time since they've been taken in. There are times in which I've seen feral/stray cats adapt to their situation super quickly. Therefore, it can vary greatly. So for feral cats especially, take it slow and carefully.
Room/Environmental Preparations For a Cat to Adjust to New Home Quickly
The environment that any cat gets into plays a massive part in their adjustment time. Suppose a cat is given a home or room designed with an eye on how it might live and travel throughout it. In that case, the adjustment period can be reduced significantly because cats are more confident when they know their environment well.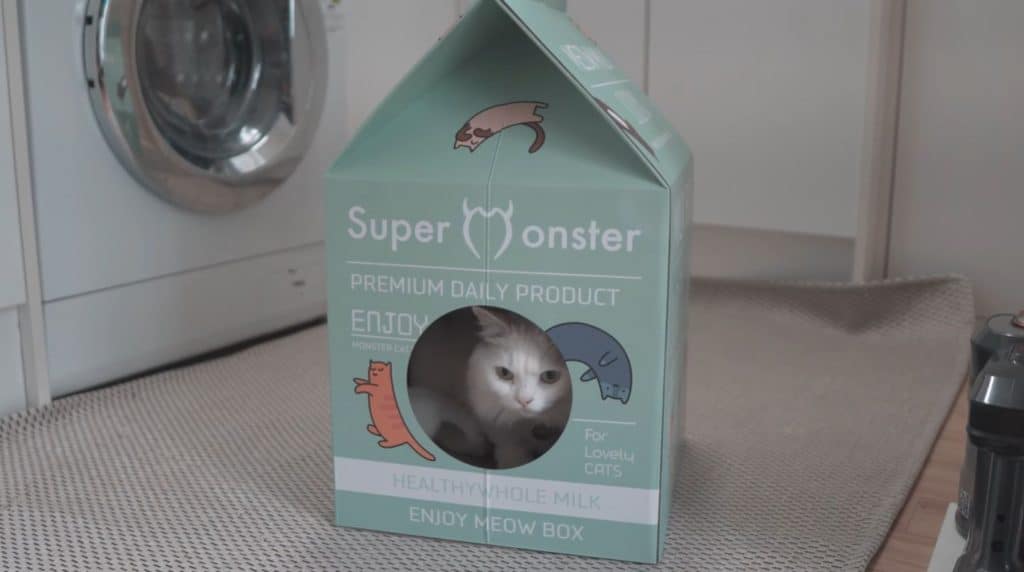 Before you continue, if you need the ultimate guide on having a cat in a small space or apartment to cover this topic and more: The Wonderful Beginner's Cat Guide!
Create Cat-Centric Spaces For a Cat's Confidence
If there's one thing that differentiates cats from other animals, cats are both predator and prey, which means they're pretty particular about how they like their environment to be. They want to feel safe at a distance but, at the same time, know what's going on around them.
As a result, cats have a propensity to climb or jump to vertical areas or platforms and seek out new places to find security. Therefore, having a catified home to allow all of these things helps cats adjust greatly by providing an excellent 'surveying' point and a secure spot to get away from uncomfortable situations.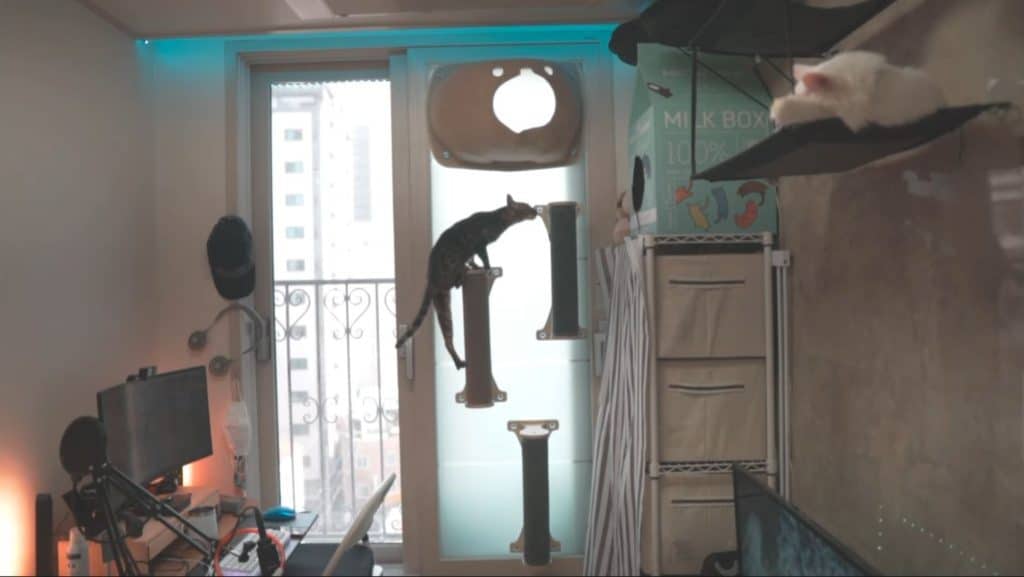 There are many ways to do this cheaply, too (check out the best budget ways for catification here!). Catifying doesn't require as much effort as you think. Moreover, it's a fun way to get into the mindset of a cat. Here are the best ways to catify without using too much effort or money:
My favorite, using suction cup perches on windows and glossy surfaces.
Modifying existing furniture such as racks and bookshelves.
Moving and organizing existing furniture in a way that provides cats a path to navigate.
Providing partially enclosed spaces when they want security (such as boxes or cat beds).
Use hanging items for cats to climb or jump on.
Of course, cat trees and poles can also be useful.
For a full curated list of the best cat furniture that I recommend, click here!
Push a Cat's Comfort Zone by Blocking Off 'Unders'
The next part in home preparation is blocking off your furniture's 'unders,' such as underneath beds, couches, and other furniture. It's very common advice, but no one does it because the reason was relatively weak.
However, the real reason for blocking off all the 'unders' is so that your cats can continue to test their comfort zones in their new surroundings. A nervous or timid cat will take longer to explore and adapt to its environment if there's a dark hole or space to go into. The cat has limited knowledge of its environment because of the lack of sights and smells.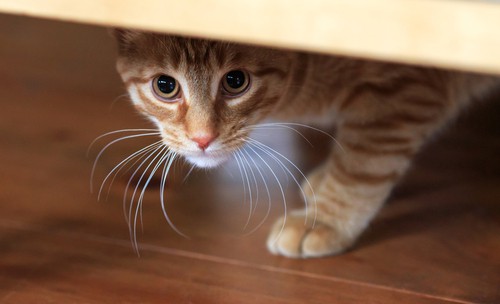 Although it may feel safe temporarily for the cat under these dark spaces, it generally doesn't let the cat grow into its new space.
With the 'unders' blocked off, they're forced to go elsewhere in the home. As a result, in most cases, these are higher, elevated places that allow them actually to see their environment. Or they are places where the cats can leave their scent and create their zone within the new home.
How To Make a Cat Feel More Comfortable in Its New Surroundings
On the first day or two, many new cat owners feel compelled to try every way possible to make the cat more comfortable by touching the cat from the getgo without establishing a line of trust. Doing this, however, can often create unnecessary stress and could prolong the time that the cat needs to adapt.
There are a couple of things that we can do without directly physically interacting with the cat and, thus, speeding up the process.
Strategy 1: Play & Distractions
The longer a cat isn't thinking about its environment, the less it feels threatened by the change. Therefore, even distracting them for a certain amount of time (10-30 minutes) can help the cat adapt.
However, don't just put toys in front of their face. Let cats see the toy moving around in the space and allow them to focus on it if they move and try to play with it, even better. But even just a little attention to the toy has a positive effect.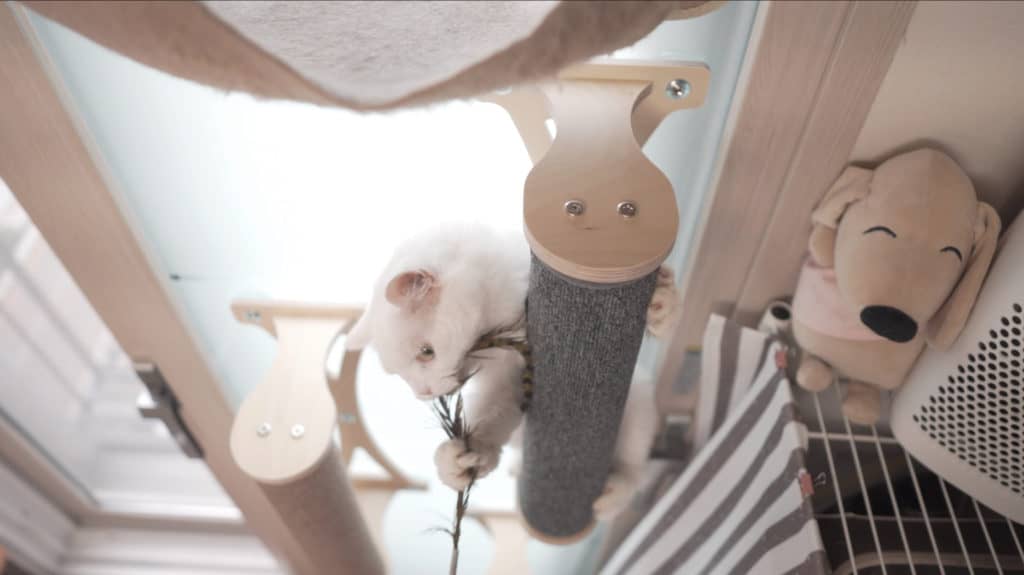 You can use interactive wand tools or laser points to achieve this. Let them follow it for a certain amount of time, then put it away and do it later. A cat gaining more confidence in its environment will be more likely to move, swat, and chase the object or toy. Therefore, if you see increased gradual movement from the cat, that is progress.
Strategy 2: Using Food for Motivation
A hungry cat is a cat that can be trained and guided (since most cats are very food motivated). Don't let them free feed. If you still have the 'unders' available, never leave food under these spaces. Let the food be a reward for pushing their comfort zone.
Give them a treat if they move or explore a new zone that they've never been to before. It will reinforce that the home is nothing to be threatened by and give them positive associations with you and the area around them.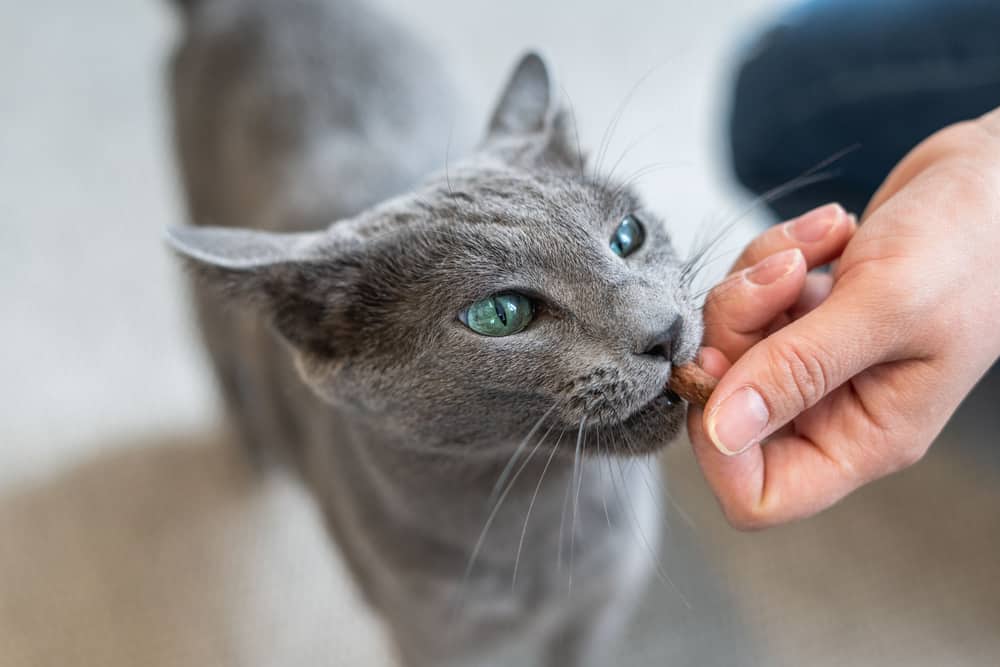 Other Notes & Tips For Cats to Adjust to New Home
In my experience, starting with play and distractions is the best because it is a very hands-off and effective approach without causing any stress. It's great to do for the first day that the cat arrives.
As cat parents wait and observe, the feline might begin to move around and explore. At that point, try a little hand-feeding, and see how the cat or kitten reacts. If they eat from your hand, you can progress further next time with hand-feeding and gentle touching. Once they learn to trust your hand, it sets them up for the future to be touched, pet, or even held.
Eventually, the cat will get to the point of complete trust with you and its environment. If you're still having trouble with getting your cat used to its new environment (or with people around them), this more detailed guide might help: How to Get Your Cat to Like/Trust You Again.
Helping New Cats To Adjust to Another Resident Cat in the Home
Of course, if you have another resident cat in your home, the new cat can be more timid and shy. So if you are introducing a new kitten or cat in your home, it's a good idea to know the process in which to introduce a new cat.
Putting two cats together without strategies to create a positive association between the two can result in bad relationships or even trauma. There is a universally agreed-upon introduction process and that's the slow isolation introduction strategy.
Isolation Cat Introduction Strategy
Designate one safe room for the new cat or kitten to enter. This room must include all the necessities such as the water bowl, food, and their own litter box. Other useful items to include are cat beds, the cat carrier that it came in, and cat toys.

As the shy cat or kitten gets acclimated to its new house and new territory, you can start swapping cat items. This is so that both cats can start to get used to each other's smell. For example, swapping cat beds, favorite blankets that each cat has been on or even cat toys that the other cats have used.

After a couple of days, start feeding each cat on the other side of the door (with the door still closed).

When there is no sign of hissing, continue pushing the comfort zone each meal time. Cat owners can open the door slightly so that each cat is able see each other while eating their meals.

Look for signs of hissing, if there is excessive hissing or the cat refuses to eat, bring the food bowl to where it was until the cat is able to eat again.

Finally, if cats are able to eat together without hissing with the door completely open – the introduction process is complete and the cats should be able to explore each other's territory without problems.
Other Introduction Tips
For those that are living in single room homes or studio apartments, it's still possible to introduce your cats. I have developed and tested ways to introduce cats without isolation or needing a separate room, click here to read. Alternatively, cat owners can also use a baby gate or pet gate to act as a separation if you have a narrow pathway.

Introductions can take lots of time, patience, and consitency. As your new kitty is quickly learning all types of new habits, it's important to stick to the strategies to prevent negative behavioral traits from developing.

Always give a lot of positive reinforcement. So that they can associate the positive feelings with what you want them to do.
Signs That Your Cat Is Adjusting
After you've done the necessary preparations and your new cat(s) are in their new home, what are some signs that they might be adjusting well?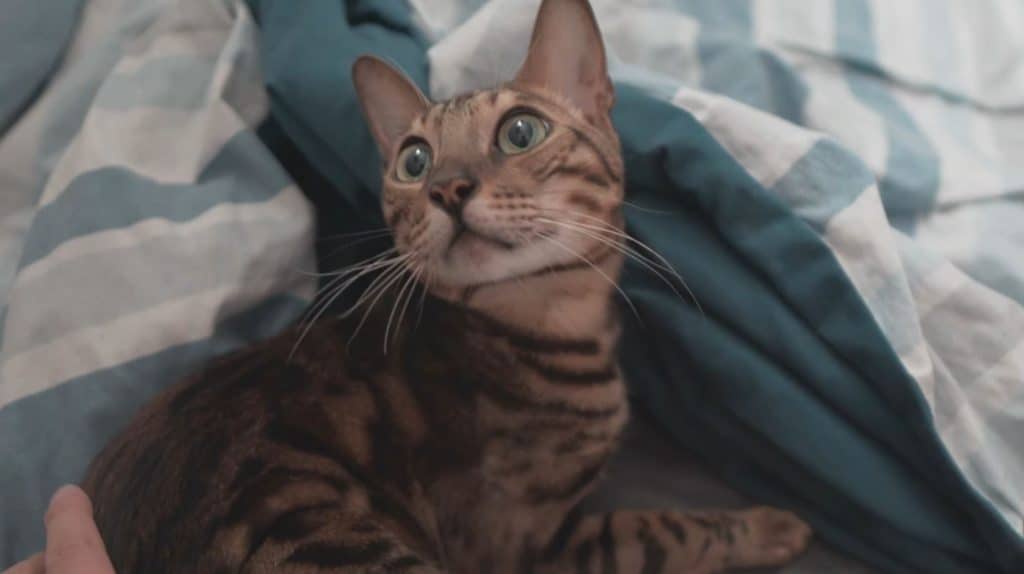 Some of the signs that your cats are adjusting are:
Starting to wander around and sniffing out their new environment. They might walk in and out of their "safe" zone but in general – any sort of exploration behavior or going to new zones is a good signal to know that they're getting more confident in their new space.

Getting more interested in toys and other stuff around them. They might engage in play with small items or just check the item's reaction.

More grooming behaviors (for example, starting to lick themselves more). Cat's that feel good will start to keep themselves well-groomed and neat, in comparison, cats that are more stressed out or ill will look a bit disheveled.

Sleepy or half-closed eyes. Cats that are comfortable in their environment will have "sleepy" eyes. Half-closed eyes show that they're more trusting of their surroundings.

Expose themselves out in the open. We might see the cat just sprawled out in the middle of the floor or even flopping over and showing their belly (resist the belly rub!). That's another good sign of them being comfortable with their environment.
For the full article, read: Signs Your Cat is Adjusting to its New Home
When to Get Additional Help From Professionals
Sometimes, despite our best efforts, some cats might need more help. If the new pet or cat is checked out and healthy from the vet but still showing a lot of signs of stress even after a month or more, this can be a sign that something else is going on such as trauma, abuse, emotional issues, lack of socialization, or even PTSD.
"The reality is that many pets with perfectly adequate, loving backgrounds develop fears, anxieties, and phobias based on lack of socialization to a given stimulus as a juvenile."

Dr. Liz Stelow, chief of service of Clinical Animal Behavior Service at the Veterinary Medical Teaching Hospital at University of California
According to petmd.com, here are the usual signs of emotional trauma in pets:
Body shaking or trembling
Fearful behavior such as continuous hiding for some unknown reason
Inappropriate urination and/or defecation (litter box avoidance in cats)
Excessive aggressive behavior when interacted with
Any animal is the sum total of its breeding and upbringing, so a dog or cat whose parents were fearful or who were mistreated or injured may pass along fearful tendencies to its offspring.

Dr. Terri Bright, director of behavior services at MSPCA-Angell in Boston
Other Tools to Help Your New Cat to Adapt to Its New Environment
Of course, there are other tools, and some people have found success with specific pheromones sprays such as Feliway (linked below). Additionally, in my home (a 30 square meter small apartment), I have developed a list of products to help create a stimulating environment for my cats that save space. Check out the recommended products page!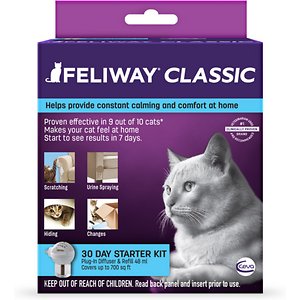 Feliway 30 Day Starter Kit
Feliway is a synthetic copy of the feline facial pheromone, used by cats to mark their territory as safe and secure. By mimicking the cat's natural facial pheromones, Feliway creates a state of familiarity and security in the cat's local environment. As a result, Feliway can be used to help comfort and reassure cats while they cope with a challenging situation and help prevent or reduce the stress caused by a change in their environment.
We earn a commission if you click this link and make a purchase at no additional cost to you.