This post may have affiliate links. We earn a comission if you make a purchase at no additional cost to you.
The regular protocol for cat introductions is pretty exhausting and sometimes isolating our cats is not possible. To be honest you don't have to do all of that and I have done it without.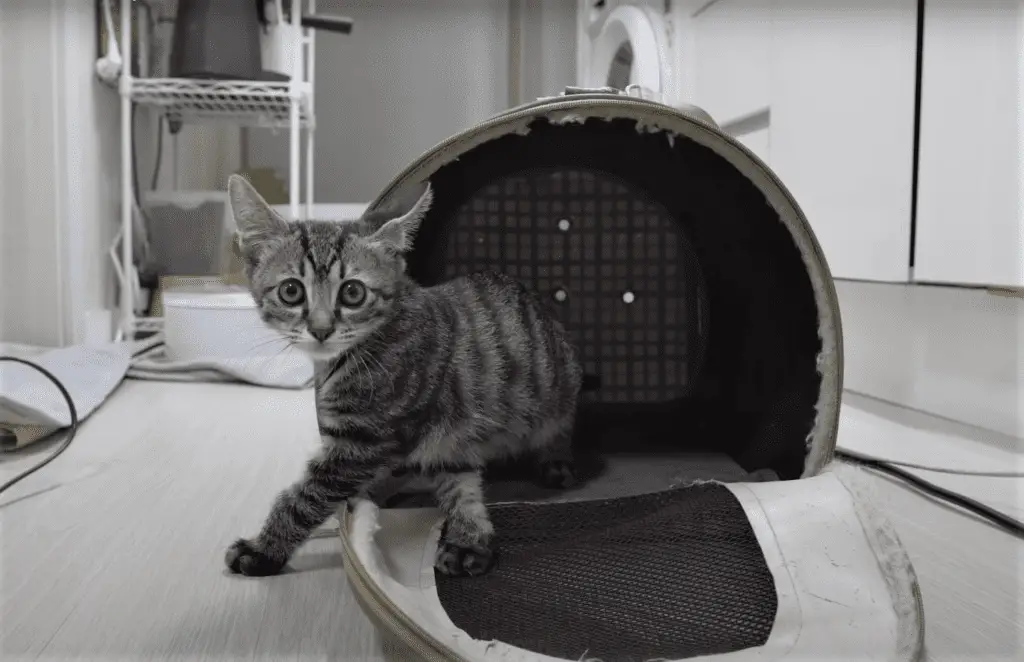 I have written an article about this before but I want to do a more step-by-step guide about how to go about the cat-to-cat introduction process in a one-room apartment, studio apartment, or even introducing new cats in one room of your house. This will include pictures and have some recommendations of what products I will recommend for this.
These are the strategies I use and have streamlined new cat introduction without isolation into very easily followed steps. This introduction process will take about 3-5 days for the cats to be accustomed to each other, provided that the cats are healthy, neutered/spayed (if they are adult cats), and don't have any previous history of being aggressive (see more in the next section).
To help you guys on your quest for cat's happiness, this pdf will help track your cat's progress and see where you need to push their boundaries. Share with me how long your introduction process takes down in the comments!
Before Starting The Introduction Process
Again, I have written an extensive article on how to make the introduction process a lot easier. It would help to read that and see if the new kitten or cat is a good fit for your home.
So before bringing the cat into your home, this is the checklist to make sure everything is ready before the introduction process takes place.
One extra temporary litter box (can just be a box) appropriate to the cat being introduced. If it's a kitten, then a lower litter box is required. When the cats are accustomed to each other, you can remove it.
Resident cat(s) are healthy and if they are adults, they need to be neutered or spayed.
New cat(s) are healthy and again, if they are adult cats they also need to be neutered or spayed.
Stop free-feeding the cats, we need to be able to use their hunger as a tool for the introduction process.
An interactive toy such as a wand tool or a laser.
Kittens under 6 months of age don't have to be neutered/spayed but if they are already, that's okay. The reason I make sure that the new cat is either very young or spayed/neutered is that if they're not, the hormones wreak havoc on the introduction process.
An intact adult male cat is severely territorial and is more prone to be aggressive to any new cat that will be introduced. An intact adult female is also very unpredictable in their behaviors. So it's best to make sure that this isn't one of the reasons that they aren't getting along, because, if it is, it will be very hard to fix.
Step 1: Place The Extra Litter Box In A Separate Zone
The first step is to place the new cat's litter box on the other side of the room. Designate this area as their "home base" where the cat will be released. It's okay if the resident cats use the litter box but make sure that it's in a spot where no cats can be ambushed and they have a good line of sight of whatever it is that is approaching them.
The litter box is one of the greatest scent markers for a cat and it allows the new cat to have a good bearing when he/she gets released in the room or apartment for the first time. Where you place the litter box matters.
Step 2: Release New Kitten/Cat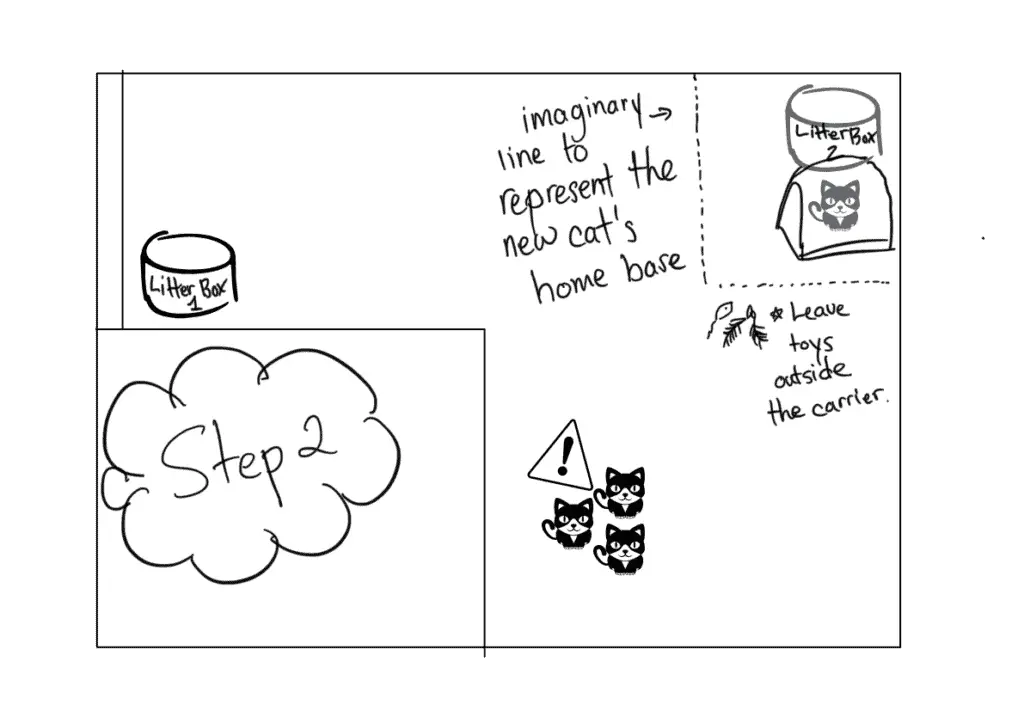 Now it's time to release the new cat or kitten in the area that you designated as their "home base". The carrier they arrive in acts as their safe spot. Just unzip or open the carrier so that they are allowed to leave but don't force them out. Just allow them their own time to leave the carrier and explore the new home or apartment of their own will.
This allowance time will very between cat to cat. Some kittens I've seen immediately leaves the carrier to explore their surroundings and some take a couple of hours before they are confident enough. Once they do leave, it's good news and we can continue with the introduction process.
If they are still in the carrier, you can try to speed up this time by having some toys around to tempt them or maybe a couple of snacks. Never, however, put snacks or food inside the carrier. We want to have snacks to be the reward whenever a new milestone is reached. In this case, coming out of the carrier.
Step 3: Wait and Observe
Now obviously at this point, the resident cats are going to come and check out the newcomer. They're going to notice every move the new cat is making and see if he/she is a threat.
We have to observe carefully what is the extent that the new cat and resident cat interactions will be. Of course, it's not going to be friendly at first. So let's talk about what is acceptable or unacceptable actions during their first impressions.
Acceptable Interactions
Unacceptable Interactions
– Hissing
– Swatting
– Batting
– Small nips and bites
-Full-on catfight with fur flying everywhere
-Blood being drawn
-Fight that is serious enough to cause injuries
The most that would usually ever happen is batting and hissing from all the introductions that I have experienced myself and help others to do.
On the unlikely chance that an unacceptable interaction or action takes place. Then the new cat has no choice to be separated from any interactions between the resident cats. If all the cats are neutered/spayed and this is happening, I would check with the vet for health issues or behavioral issues.
If the cats are acting within acceptable behaviors, then that's another milestone reached. We can now go ahead with building positive associations with each other.
Step 4: Play and Distraction Strategy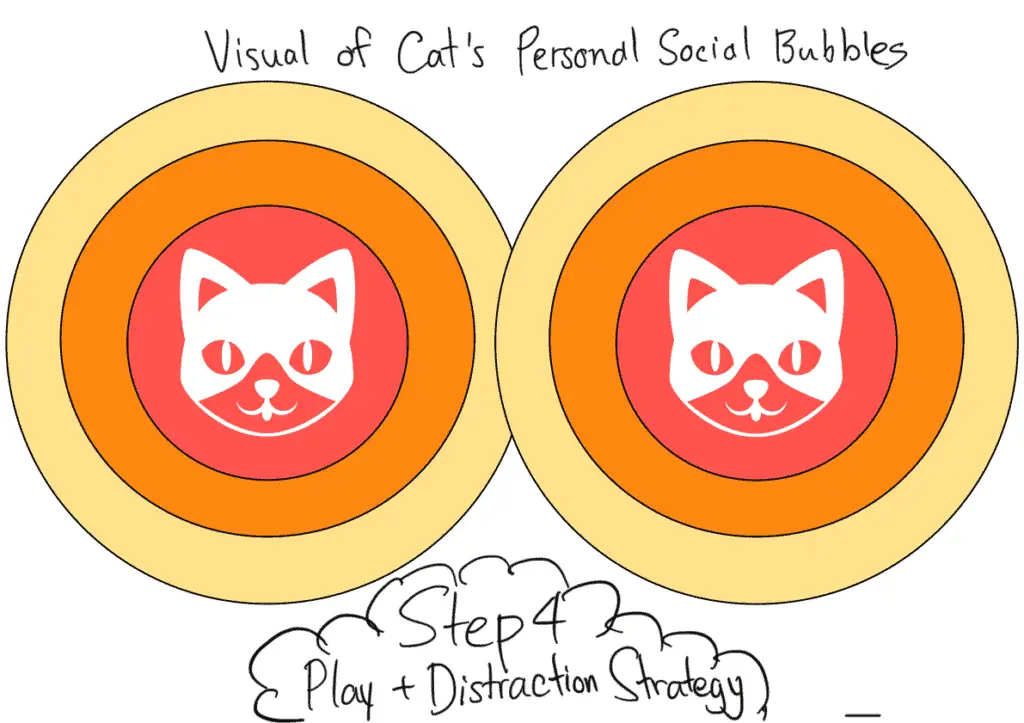 1st day at their new home: try to avoid having the cats cross into each other's yellow area of the above picture. Keep all the cat's eyes focused on the toys for as long as possible. If cats are moving and chasing the toy, again, avoid coming into any cat's personal bubbles for today.

2nd day: now you can start approaching those boundary lines (preferably the yellow zones) when they play.

3rd day: continue to push the personal boundaries up to orange/red depending on how your cats react. At this point, there should be a lot less hissing between the cats.
The key here is to take away focus from the new cat or kitten. The longer they are distracted by something else, the more the resident cat realizes that the new cat isn't anything to worry about, especially if the distraction is something to play with or "hunt".
To understand cats is to understand what makes them tick and nothing fulfills their instinctual needs more than a good play session. It's expected that the play session is going to be a bit muted because the cats are aware of each other's presence. However, in the beginning, all we want to do at this stage is to take their eyes away from each other and onto the toy(s).
Wand toys are great for this as it allows you to control where they're going to move. If some of the cats are playing and chasing the wand toy, great! Remember to keep watch of how close they get to each other, the key is to let them play in the vicinity of the other cats but not too close, or else a hissing session might begin. The goal is to get them to play closer and closer to each other, extending their comfort zones between each other without any hissing.
This will take a few play sessions. On the first day that the new cat arrives, I would do one play session to see how they react and then maybe increase the number of sessions the next day with the goal of getting closer to each other every day. Eventually, hopefully getting to the point where they can all play together without any batting or hissing being involved.
Step 5: Snacktime and Mealtime Strategy
Scheduled snack and meal times are other powerful tools to influence our cat's behaviors and associations. We know that cats are highly food motivated and food affects their relationship with everything in their environment, this includes people and between other cats.
Now it's very important that in this step that you are not currently free-feeding your cats. A hungry cat is a cat that we can work with behaviorally so remove any food or snacks that are accessible and start scheduling food 3 times a day. Morning, evening, and night time before sleeping.
During the first couple of days, the cats probably don't want anything to do with each other. They're going to eat away from each other for the most part. However, on their next mealtime, move the food bowl closer to each other. Continue to move their food bowls together until they are eating side by side or from the same bowl. Cats will only eat close to something that they're comfortable with. If you're able to push past their comfort zone each time, they will become more relaxed with each other.
Combine both the play strategy and mealtime strategy and the effect is even stronger. This continues to reinforce that everything better when everybody is together and playing!
Step 6: Repeat Steps 4–5 Until All Cats Tolerate Each Other
Day by day, your goal is to break past each "barrier" each cat might have towards each other. Keep going with steps 4-5 until finally, you feel that both cats are able to tolerate each other or even better, have become best of friends!
Nothing feels better than seeing your cats getting along, playing, or sleeping together! Remember that every cat is different and some will take longer than others. The average length of time that it takes to do this type of introduction is about 3-5 days. Sometimes a bit longer and sometimes a bit shorter.
Step 7: Remove or Move The Litter Box to a Place of Your Choosing
Now that the introduction process is finished and your cats are the best of friends (hopefully). It's time to remove the litter box that you've placed in the beginning or place it somewhere else. The new addition no longer needs to have a litter box far apart from the other cats (since cats can easily share litter boxes!), so this part is up to you whether or not to remove the temporary litter box.
For a guide on how many litter boxes to use in a one-room apartment or smaller living spaces, read about it here!
That's it! I hope this has been helpful in streamlining the process and gets you on your way with introducing a new cat to your home!