This post may have affiliate links. We earn a comission if you make a purchase at no additional cost to you.
Here's a quick guideline of what to do when introducing cats in a studio apartment or similar types of spaces:
Screen the new cat (personality, gender, etc.)
Prepare a cat-centric environment before new cat arrives.
Set-up the new cat's home base in the specified zone.
Distract cats with play.
Use food motivations to create positive associations.
Repeat steps 4-5 until cats are friendly/tolerant of each other.
There's a well-known process to introduce cats. It usually goes like this: Isolate the new cat in a separate room and slowly introduce the cats to each other. While this is the ideal process to give all your cats time to adjust to the new situation, it is sometimes impossible, especially for the people living with their cats in one-room living areas.
Before you start, I included a free PDF that you can use to track your cat's progress with each other. Tracking your cat's progress will help you understand what is happening and which boundaries to push during your introduction process. Please share with me how long your introduction process takes down in the comments!
Introducing Cats in a Studio Apartment Guide
I introduced all of my kittens and cats in one room without the traditional isolation, slow and gradual introduction process.
So how did I manage to introduce a cat/kitten into a one-room studio apartment? First, know your cat's personality and screen the cat's personality by meeting it first. Choosing a same-gendered cat or kitten to introduce to your resident cats increases its chances of getting along and having the same type of playstyle. Second, have a stimulating environment by providing toys, cat furniture, and regularly scheduled playtime. And third, leverage the power of food and snacks to create positive associations between the cats and you as their owner.
Here are the basic points to know when introducing cats in a studio apartment:
Cats are living things, and so as all living things, they have an innate instinct to survive, and they will be able to manage by themselves, even without much help.

Even if they are stressed and a little bit uncomfortable initially, they will be able to adapt. With the power of consistency and positive associations, we can help this process go along much faster.

By following these steps in a studio apartment environment, you'll be able to have the cat or kitten adapt within a week as a reference.

On average, for me, it takes about 3 days from the introduction for my cats to get along and play, eat, and sleep together with each other.
Update: I have streamlined this process and created a more illustrated guide for introducing a new cat without isolation or separation. However, this article contains more in-depth details and provides solutions to some problems that you might have! It's recommended you read this one first and then look at the illustrated guide!
Before the Introduction: Personalities & Factors That Affect Introduction Process
Even before a new cat is introduced, you must consider your cat's personality and the new cat's personality. This is why experts recommend whoever is introduced should be in the same stage of life as your current cats. For example, if your cats are 2-3 years old, it would be recommended that the newcomer be 2-3 years old.
However, it could be that you have an active breed that is kitten-like throughout their whole life (such as a Bengal). Then it would be fine to introduce a younger cat to their lives. It would provide them with a partner to expend their energy on. My recent addition is an overactive rescue kitten that my Bengal loves to play together with.
Nothing, however, is set in stone in the animal world. Cats have personalities, and some are more resilient than others. Some need some extra time to cope with the change. Some cats warm up to the new cat in one day, and some need a week.
So as a responsible owner, it is important to do the research and meet the new little guy before you introduce them to your household. Ask yourself these questions:

1. How well are they playing?
2. Are they afraid of you or other animals?
3. Are they playing with their siblings/other cats (If they have any)?
4. How young is the cat/kitten?
5. Is it male or female?

All of these are factors on how well they will adapt to changes or react to other cats or people.
The most important factors that increase a cat's likelihood of adapting quickly after an introduction would be its age, gender, and playstyle.
Age Matters For The Introduction Process
A younger cat/kitten is much more adaptable than an older cat. Simply because there's a time period in which they are learning what's okay or not okay in their environment, is usually it's within their first 8 weeks of being born and can extend up to 14 weeks.
A young kitten will learn quickly what is acceptable in terms of behaviors with other cats and humans. Take this into account. Even if the kitten is a bit more timid/shy or sensitive initially, they can develop into confident and active cats.
So if there's a kitten that you really love and they're still pretty young (within that time period of socialization) but maybe a little bit shy or afraid, I'd say go for it. There's a higher likelihood for the introduction to go well between cats with younger kittens.
If the cat is older, know that it takes a little more time and effort for older cats to get out of their old habits and learn new ones. However, with consistency and a proper plan, there's a high chance that it will still be successful.
Gender Influences Playstyle (For Better Cat-to-Cat Compatibility)
Try to have the cat you are introducing be the same gender as your cats at home. This is because males and females have different traits and quirks:
Boys are usually rougher with their play than girls. Girls tend to like a game of chase, but boys like to wrestle.

Boys can also be more independent in their play, and girls like to lounge, chill and observe. Pick the gender that most match your cat at their current state.

Is your resident cat overweight and doesn't move that much? Maybe a female would be better.

Is your cat super energetic and always nipping at your ankles? Then giving him a boy to wrestle and expend his energy on might be a good idea.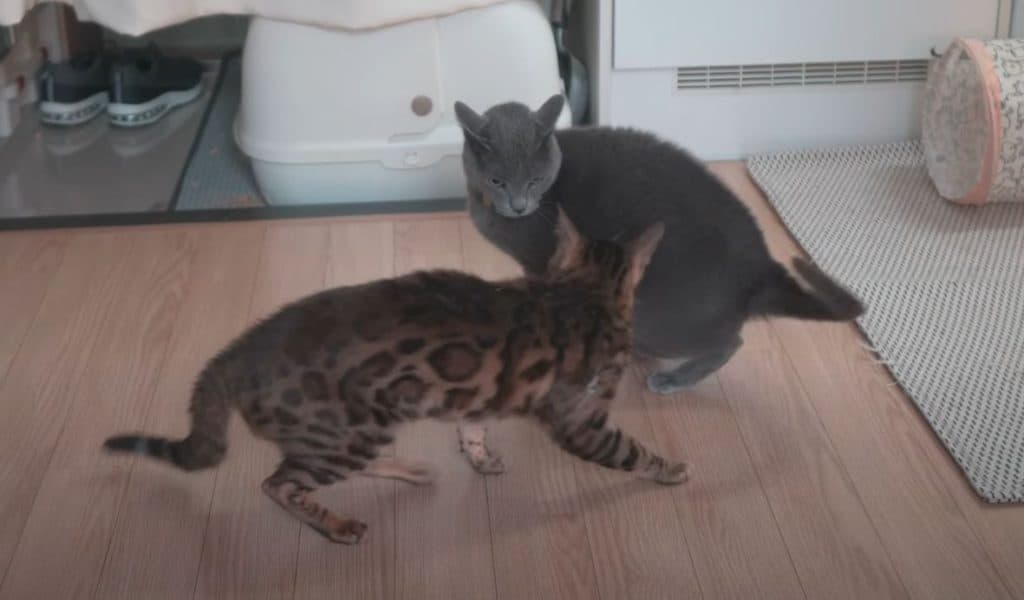 Of course, there are always exceptions, but thinking about these two important factors will help have a smooth introduction process.
Environment Preparations: Before & During Introduction Process
In the interactions with cat to cat, think about what you can control. You can't control what they do to each other. You can't control where they want to go. However, you CAN control their environment, food and play. So, in a sense, you can control their associations and as a result, you control their feelings towards each other and you as their owner.
Environment Preparations Before New Cat Arrival
Other than providing stimulation in the environment, try to block off most of the unders in the apartment. Under the bed, under the couch, or the cabinet. The reason for this is because it makes cats keep pushing their comfort zones and not hiding in a dark place for hours at a time.
Try your best to block off or minimize the number of things that the new cat or kitten can go under.

If you do have some unders available and you've tried your best, then it's okay. It's not a make-or-break type of thing. It just helps the introduction process along.

Just remember, if a cat or kitten ever goes into these places, never reward them with treats or food. You don't have to coax them out either. They'll come out when they realize it's more fun out in the open rather than under something.
During and After Meeting of Resident Cats
As you begin to release your new kitten/cat into its new environment. Release him in one section of your apartment. It doesn't have to be a room. It might be just one corner of the room.

This should be where there is a litter box easily accessible for the new cat or kitten. Allow for the hissing and swatting to happen. It will happen, and there's no controlling that. Allow the other cats to notice. Some cats might be following the new guy, and some will immediately try to avoid them.

As I said before, think about what you can control. The environment should allow other resident cats to avoid them (perches and things to climb) and a relatively secure place for the new cat to hide if it gets too intense. Such as the carrier you brought them in. The kitten may want to stay there for a while until it gets use to the new smells.

Be patient on the first day. Sometimes it takes an hour or two for the new kitten or cat to move out from the carrier. Sometimes it takes until all the other cats are asleep to be more comfortable with sniffing around and exploring their environment.

As they explore, maybe he'll discover some fun things around the apartment, such as balls or toys. Let the new kitten/cat do whatever and allow the hissing and swatting.

The only time you should intervene is when there is a full-on catfight with biting and scratching (clap loudly or make a loud noise to stop the fight).
In these rare cases, you might need to separate them until you know what's going on. This usually never happens if the resident cats are spayed and neutered!
Scheduled Feeding and Play Strategies For Introducing Cats in a Studio Apartment
The two things that can create good associations between you and your cats are food and play. If you have been free-feeding your cats up until now. Stop. The cats will be in a constant state of fullness and won't respond as well to snacks or food.
Introduction Strategy 1: Positive Associations From Food
I have 3 scheduled times to feed, and I recommend you have the same type of schedule. Morning, lunch, and night time right before I sleep.
A scheduled feeding time works well because it allows them to anticipate food and be hungry enough to eat together and start to associate each other with positive feelings from eating food. Therefore the steps are as follows:
Set 3 times in which the cats will have mealtimes.

If you know a certain food or type of snack your resident cat loves, start using them during the scheduled feeding times. At first, your cats will want to eat pretty far away from the new cat or kitten. Maybe some will refuse to eat at all. That's okay for the first time you try. Leave the food there and try next feeding time again.

As your cats get hungrier, they'll start to care less about what's around them and care more about food. Start to move their feeding bowls closer together each time. Imagine crossing a boundary line each time when feeding the cats. Continue to keep crossing that line and bring the food bowls closer together.

Eventually, if it goes well, they'll get to a point where they're beside without hissing at each other. That's when you know you're breaking through, and the process of peace, love, and toleration begins!
What I like to do is when they get to that point, have a large dish or bowl with some food they go crazy over and allow them all to eat from that one dish or bowl. There should be enough space for all of them. If they can do that, then the rest is easy.
Introduction Strategy 2: Positive Associations From Play
Similar to scheduled feeding, have a time in which you play with your cats together. I would recommend twice a day for about 20-30 minutes. Preferably, playtime would be before scheduled feeding time. This fits in line with a cat's instinct to hunt, catch, kill, eat, and groom. After they play, it's time to eat.

Play creates a distraction for all of the cats. Instead of focusing on the new cat or kitten, they can focus on hunting, tracking things, and in general have fun. As a result, everyone starts to notice things are okay as they play around each other.

It'll begin a bit hissy, of course, but if they're trying to play around with the other cats, it's a good sign. If the other cats are attempting to play, it's also a good sign. Again, a bit of hissing and swatting is okay in the beginning. Your main goal is to distract.

Interactive toys such as laser pointers and wand toys are great for this. Kittens love things to chase and so it's easy to distract the kittens around the other cats.
What does this convey? Things are only fun when everyone is together. As cats tire out and have fun chasing, hunting, and catching the toys, you can reward them with a snack or whatever food you feed them during scheduled feeding time. This will reinforce their positive feelings towards you and the other cats around them.
Introducing Cats in a Studio Apartment: Conclusion
That's all there is. If you consistently provide good associations by scheduling food and play, eventually, their bond with the other cats and with you will strengthen. They'll be chasing, playing, and napping together in no time.
I've never had an introduction last for more than one week. They eventually start to play with each other by the end of the week. The first day is always the most stressful, but once you get the hang of it, you can be confident that your efforts will be rewarded!
Loki, my rescue kitten, was one of the fastest introductions I've had to date. It took about 2 days for everyone to be okay with each other. This is the process I've followed for each one of my cats, so I hoped this has helped some people wanting to add another cat to their lives!