This post may have affiliate links. We earn a comission if you make a purchase at no additional cost to you.
This article is for anybody thinking of adding an extra cat or two but might be a little nervous if their accommodations can handle it.
So how do you live with 3 cats in a studio apartment? In a quick summary, living with multiple cats in an apartment is a combination of having a set schedule of food, play, and sleep to keep them busy. It is also habitually guiding your cats to have high energy when you want them to have high energy and be relaxed when you need to work and sleep. It's a compromise between having a balance of cat spaces and human spaces.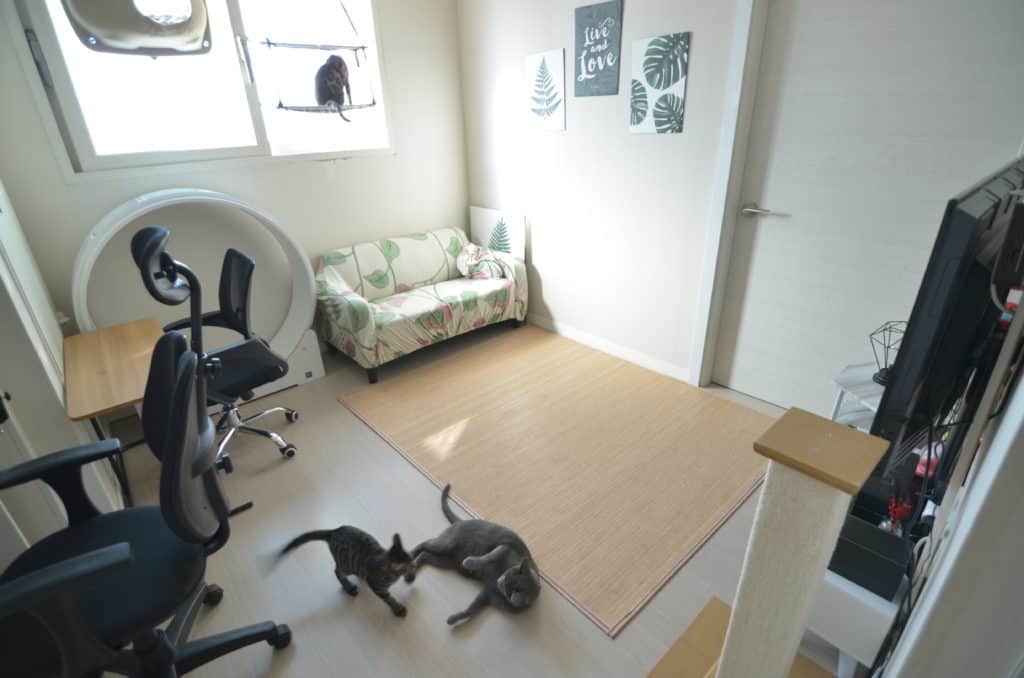 Trust me. My place is probably smaller than yours. So if you really want another cat, then you can definitely find a way to make it happen! Hopefully, this article will give you the confidence to try and adopt another cat to add to your family! There are just too many that need a home! Especially here in Korea, where street cats are all too common.
A little about me: I am Canadian but live and work here in Seoul, Korea. For most foreigners working in South Korea and Asia, in general, we live in super-small apartment spaces in Korea called office-tels (pretty much a studio apartment).
How to Live in an Studio Apartment With More Than One Cat
Ever since I started living in office-tels, I've become very aware of what I need and don't need in my apartment. And now that I have cats that I love and take care of, I've become ultra-aware and always make sure that things I keep in my apartment bring value and are used daily.
People always think 3 cats in this type of space is too much, but if you're creative and willing to think about how you/your pets use the space, it can be very stimulating and rewarding!
Useful Cat Furniture and Things to Avoid To Live With Cats in a Studio Apartment
Before I purchase anything in my apartment, such as furniture for my place, I always think about how the cats will react. Some furniture might enrich the area and provide a place for play, and some might cause the cats to feel trapped and nervous.
Many people will notice that I don't have a typical cat tower. That's simply because I felt that the only thing the average cat tower provided was another place to sleep and as a mediocre scratching post. The thing is, in a multi-cat home, average cat towers aren't going to cut it.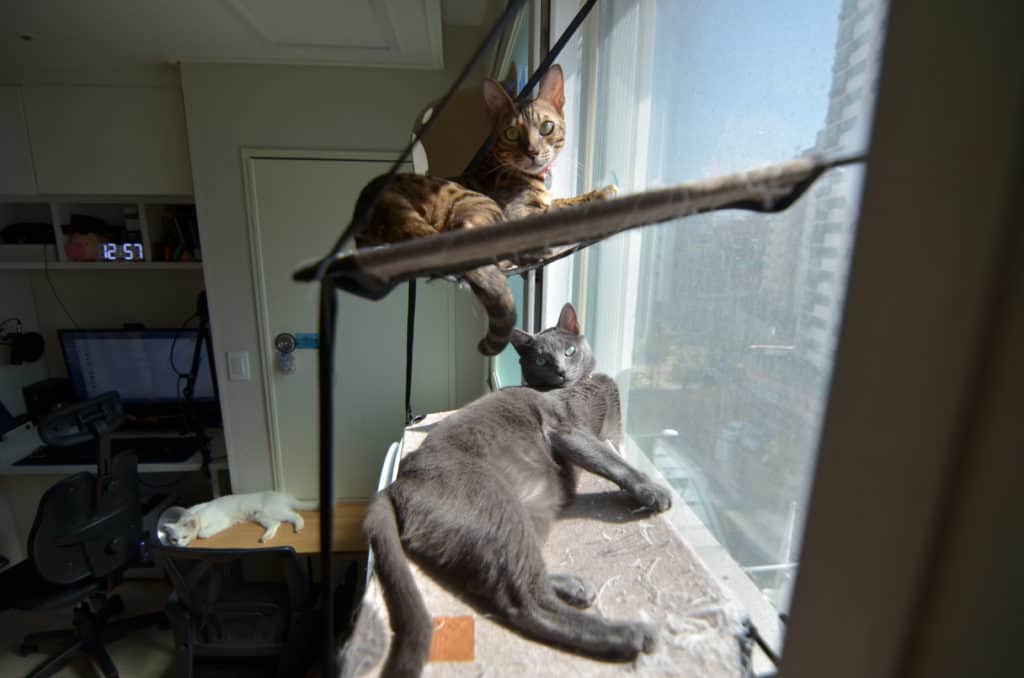 Typical cat towers take up too much floor space and are generally not great at the things they provide for our cats (that is, a scratching and playing space). Instead, choosing a high-quality scratching post and a more specialized cat tower (see the recommended section) is more effective/efficient for smaller spaces.
Like many cat owners, I want to do more for my cats and nail in some cat perches, but unfortunately for many people in rented apartments, to do modifications or any drilling/nailing is generally asking for trouble. So to catify my apartment, I used a lot of suction cup perches and hammocks.
Litterbox Management is Important When Living With Cats in a Studio Apartment
When living with cats in a studio apartment, litterbox management is crucial. This is because there are a lot of different aspects when it comes to the litter box. This includes:
I've boiled it down to a science for anyone that wants a complete solutions guide for litter box concerns in apartments.
There's a general rule out there that you should have the same number of litter boxes as you do cats plus one. This is crazy in a studio apartment. I discovered that if your cats have a good relationship with each other, they can easily share litter boxes.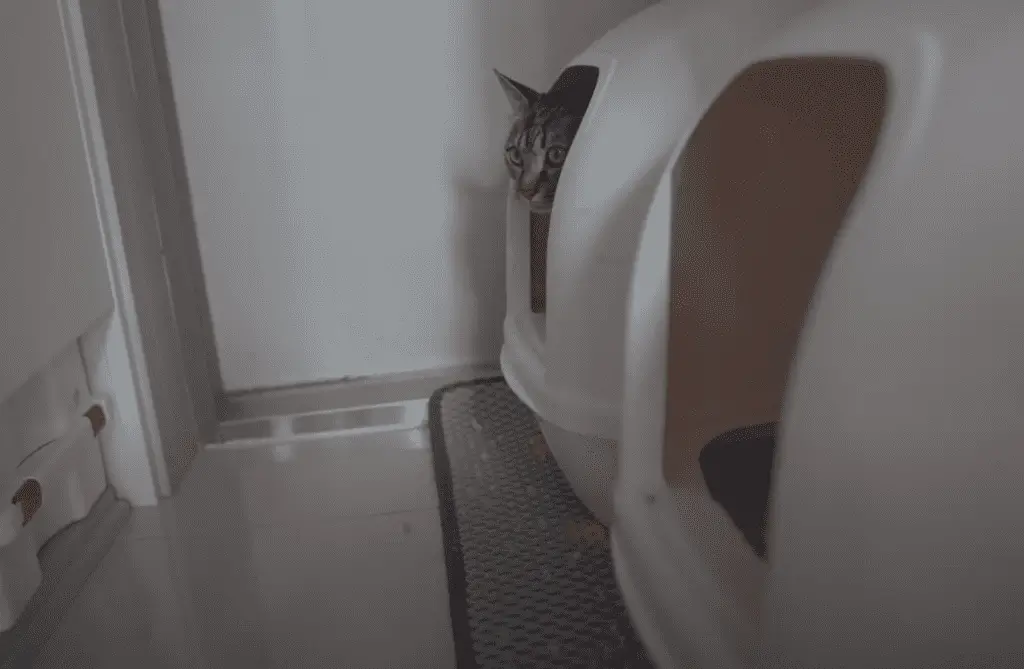 In my previous, even smaller apartment – I used one litterbox for all 3 cats. The room was so small, but all the cats were able to use it without a problem. I obviously had to clean the litter box quite often. But it was a small sacrifice for saving space!
Set Schedule for Food and Play When Living With Cats in a Studio Apartment
Food and mealtimes play a large part in managing my cats' energy levels. I want them to be energetic when I'm active and calm when I'm resting or asleep. Therefore, I plan my cat's meals around my lifestyle.
I feed my cats 3 times a day, and they all eat together. Morning, evening (when I get home from work), and right before bed are their meal-times. I avoid free-feeding my cats because:
So if you are feeding them 3 times a day daily, you'll be able to create a stronger bond with your pets, and the added benefit is that they're more likely to get along because they're all eating together and associating each other with the good 'feeling' of eating.
Scheduled playtime is equally important when living with cats in a studio apartment because:
Other Helpful Tips & Guides
Here are some other points to consider when living with cats in a small living space such as an apartment (clicking through the links will bring you to my in-depth guides to help you further!):
PetFusion Ultimate Cat Climbing Tower & Activity Tree
A lot of tall pole cat towers are too flimsy (I've tried a lot of them) - this one has rave reviews and every time I recommend it, my friends and family always tell me they love it for their cats. It lasts years and promotes a lot of activity and climbing.
We earn a commission if you click this link and make a purchase at no additional cost to you.

My Pick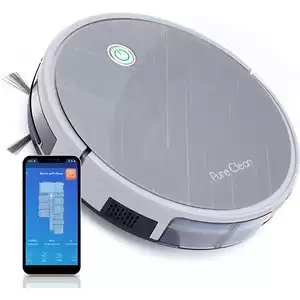 Pure Clean Smart Robot Vacuum W/ Remote Control
Keep your home free of dust, dirt, and pet hair with the Smart Robot Cleaning Vacuum with Remote Control from Pure Clean. It has dual spinning side brushes that capture dirt and lift debris into the bagless waste bin and an integrated dust filter for easy disposal. This self-programmed system features gyroscope technology to optimize cleaning routes and clean up in areas where your furry friend hangs out with anti-fall and anti-collision sensors for protection. Great for lazy butlers and has great reviews!
We earn a commission if you click this link and make a purchase at no additional cost to you.

My Pick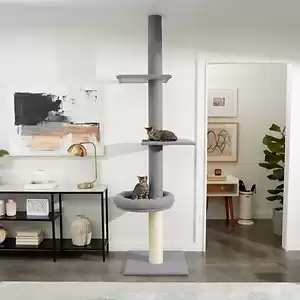 Frisco 3 Level Floor to Ceiling Heavy Duty Cat Tower
Give your feline fun from top to bottom with the Frisco 3 Level Floor to Ceiling Heavy Duty Cat Tower. That's three tiers of furry fun for climbing, stretching, and relaxing. The sisal wrapped post encourage healthy scratching so you don't have to worry about claws on the furniture. Plus the bolster bed perch is the perfect place for your kitty to rest their head during those cat naps. This tower is secured to the ceiling with a tension rod, so you can feel good knowing your cat can play all day on this sturdy, durable structure.
We earn a commission if you click this link and make a purchase at no additional cost to you.