This post may have affiliate links. We earn a comission if you make a purchase at no additional cost to you.
One of the most recommended cat breeds for companionship in an apartment is the Russian Blue cat. There are reasons of course, why Russian Blue cats are good for apartments. They're a gorgeous cat breed with intelligence and charm. However, getting them to move is sometimes a mission and a half.
So what are specific points that make Russian Blue cats good apartment pets? Russian Blue cats are great for apartments because they strike a good balance of being affectionate, independent, calm, and playful. They're never in one extreme, and Russian Blue's are not known to be destructive. They're also great for all types of pet owners because they don't require much attention compared to other cat breeds such as the Bengal.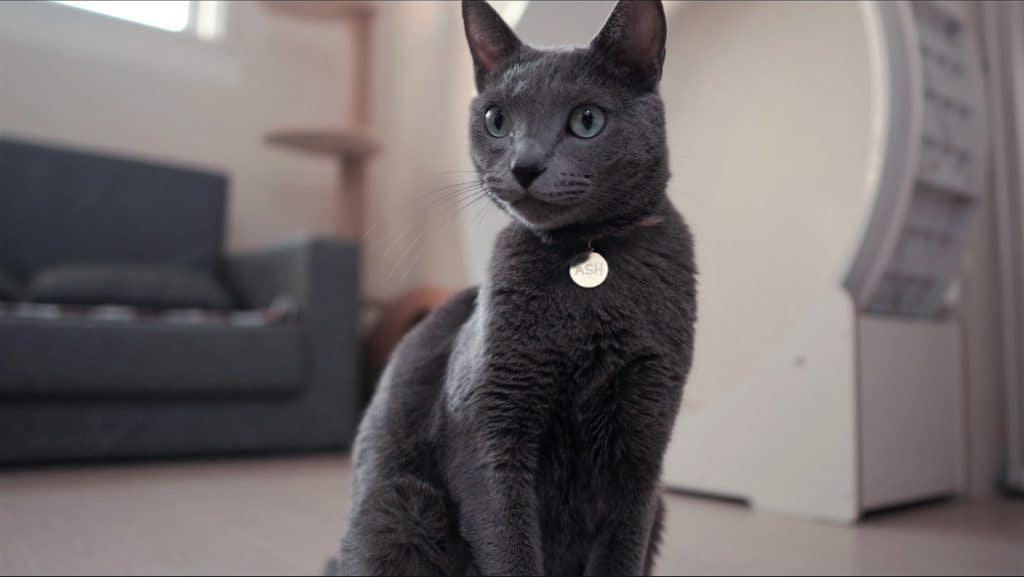 So whether it's your first time getting a cat or if you already have some experience with cats, they are playful, smart, and observant cats that are very attached to their owners. Ash, my Russian Blue, may seem very lazy, but he's always observing what's around him with a sharp eye. He's always the first to sense any changes in the environment. The Russian Blue was the first cat breed I was interested in, so Ash was one of my first cats.
I'm not going to get into the history of the Russian Blue because you probably already researched about them. The question I want to answer in this article is if they are a good breed to be a companion in your apartment or smaller living space. Taking a focus on their personality and what you might expect in their behaviors in an apartment.
To learn more about other breeds that are popular in apartments, I conducted a survey! Click here to see the results!
Russian Blue Cat Apartment Guide
This article is meant as a reference point for this breed. Their breed lets us predict their behaviors, but in the end, based on the cat's environment or the way they were socialized, the cats might have some different traits or characteristics.
Russian Blue Cat Temperament In Apartments
Russian Blue's have a great personality for apartments. They are calm when you are calm, and they're active when you want them to be active.
Generally predictable, there usually isn't something you would be surprised about them other than their dashing good looks. You might think this would be a negative point, but in an apartment with high traffic and many objects around in close proximity – it's a major strength.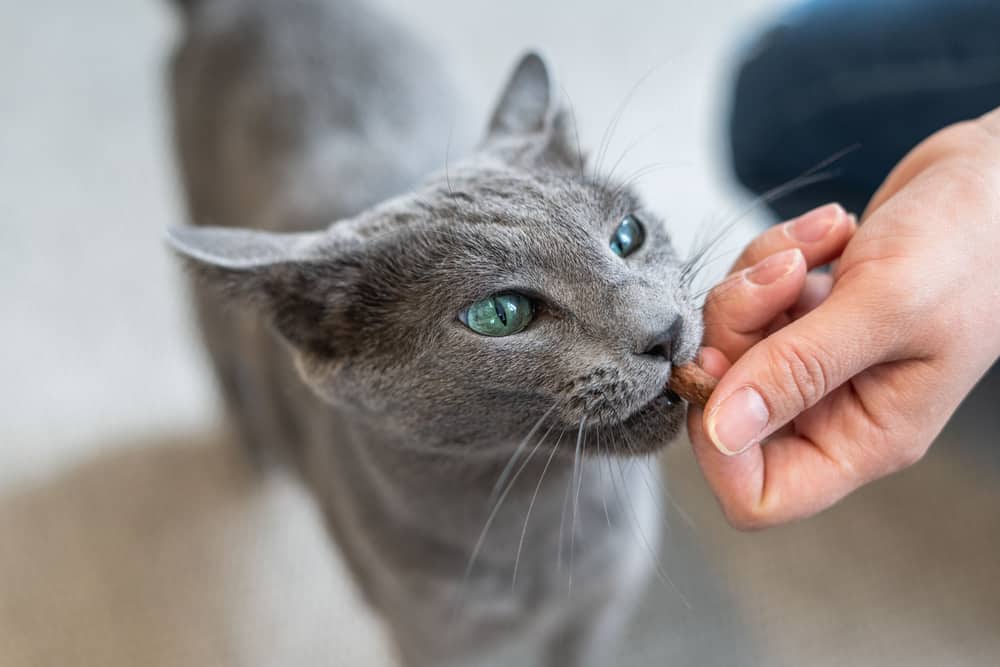 They have such consistency in their behaviors and routine that you'd think they have a clock on their paw. My Russian Blue would usually be in the same spot when I wake up and have only a couple of certain toys that he likes to play with.
Russian Blue cats are also incredibly quiet. Actually, the only time that you'll hear them is when they're hungry! They're easily startled by loud things, so if you live in a loud area, be sure to have a relatively quiet area for them to escape to. Or try to minimize the sounds as much as you can.
When you're living in a studio apartment or apartment, things are quite close together. As a result, cats can reach and find things that you don't want them to play with. However, I'm never afraid of my Russian Blue doing this. He's respectful of the things around him and is never destructive.
Thus, they are a Breed that I would say can be fine as a solo cat in a household/apartment or with other cats in a multi-cat home (still, I recommend always adopt in pairs if possible!). They can be alone for longer periods of time as they can keep themselves busy in various ways. Ash, my Russian Blue, loves to stare outside the window for hours!
For these reasons, it makes them great as apartment companions.
Russian Blue Energy Level in Apartments
As kittens, they're are incredibly active and curious. They learn quickly and have a good sense of what is acceptable or unacceptable.
As they grow up, their energy levels decrease a lot (or efficiency increases a lot), so as a result, their habits and routines really define them. If they have a stimulating routine and environment, it will show – they can become very slender and muscular cats. If they're left to free feed and have a sedentary lifestyle, they easily gain weight.
Compared to a more energetic breed like the Bengal cat, if a Bengal cat doesn't have anything to do – they will find something to do. Russian Blue cats are just fine being bored most of the time.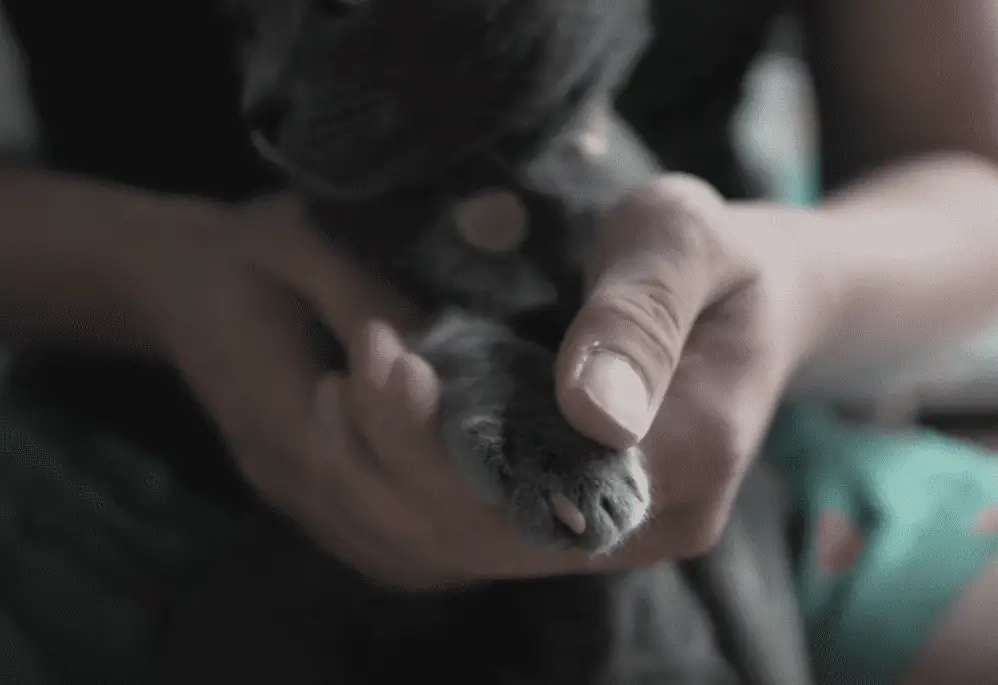 While I have mentioned that they are a very mellow breed, this isn't to say they're not active and playful. They enjoy playtime like any cat and can be quite independent in their play. They love to bat and chase their favorite toy around.
Of course, there is no substitute for interactive play with their owners, and you must have regular playtime with your Russian Blue to start to create that routine! For effective ways to use interactive play, read: How to Tire Out Cats and Play With Your Cat Properly!
Again, because of their chilled nature, they don't really force anything upon you as their owner. This can be negative because they don't really mind sitting there for long periods of time. Combine that with their love of food, and the Russian Blue is likely to get obese (check out the proven methods to get your cats to lose weight here!). They need more opportunities to exercise than most cat breeds.
What Are Some Russian Blue Quirks? Other Things to Know When Living With Russian Blue Cats in Apartments?
You've probably heard it before, they are incredibly fond of their chosen humans, and it's true. They'll probably be first to greet you at the door when you come home. Or waiting patiently outside the bathroom for you to give them some attention (or food).
Sometimes they are a bit clingy, constantly trying to get onto your lap even when you put them down for the 4th time. Russian Blue cats are the ultimate lap cats, warming you up during the winter or making you overly hot during the summer.
Russian Blue cats are also wary of strangers, but it doesn't take long to warm up to any humans if they're are socialized well. They love being touched and stroked and become purring machines the moment you interact with them.
Russian Blue's are also said to be hypoallergenic, but this is probably false from what I have researched. So if you have allergies and wondering if you might have a reaction, you won't know until you visit the cat itself because each cat will produce different levels of this protein. It's believed that Russian Blue cats produce less of it. However, it's never been proven.
How to Keep Your Russian Blue Cat Happy in an Apartment
I've mentioned it a lot in this article, but while routine and food and play are important to all cats, they're essential to the Russian Blue.
For a comprehensive guide about food and play schedules:
They love routine, and I'm sure they probably spend their time thinking about how exciting it will be to do the same things tomorrow!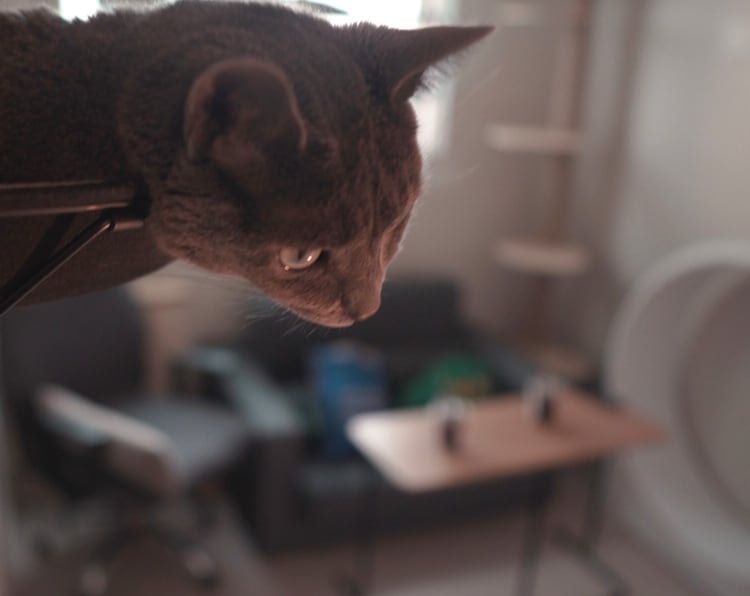 But honestly speaking, they're very efficient with their energy. So on a schedule, you can expect them to be excited at times you want them to and chilled at the other times.
It also keeps the things that might give them health problems in the future at bay. As mentioned above, if left to free-feed, they'll probably eat continuously until they get obese.
Apartment Essentials for Russian Blue Cats
Russian Blues are easy and only require basic cat things such as a scratching post and maybe someplace to climb, such as a cat tower. As they enjoy lounging around until something interesting happens. They will rarely initiate something by themselves.
Though, high-quality cat furniture is a must because they can grow quite large and muscular (Ash has broken many cat towers and scratching posts). You have to make sure whatever you get for them must be well built. This breed is gentle and slow 90% of the time, but they can take down almost any shoddily-built cat tower when they start to move.
Another thing I would recommend you should have is a cat brush to get rid of their shedding hair during the fall and springtime months as their seasonal coat starts to change. They don't shed a lot normally, but it can be more than usual during these times. So an occasional brushing might be a good idea to combat the fur that your cats might shed onto furniture or your clothes.
Visit my recommended products page for the full list of high-quality products that I recommend for cats in apartments!
Russian Blue Cats in Apartments: Conclusion
In conclusion, Russian Blue cats are wonderful companions in an apartment or any smaller intimate space. They're respectful of your belongings and yet are still playful and loving. They're intelligent and observant and can easily fit into anybody's lifestyle. With some basic knowledge about cats and what makes them tick, you can always ensure that your Russian Blue is a happy and healthy cat.
If I were to give a breed recommendation for any of my friends or family for a cat breed to get in an apartment, it's the Russian Blue first. I might be a little biased, though :).
If you're thinking about a Bengal cat in an apartment, I will pray for your sanity and direct you towards my article: Are Bengal Cats Good for Apartments?
To compare the Russian Blue and quite a similarly relaxed breed, please read my article: Russian Blue VS Scottish Fold.