This post may have affiliate links. We earn a comission if you make a purchase at no additional cost to you.
Although, understandably, there might be times when an owner might want to teach their cat right from wrong, is it even possible or recommended to discipline or punish a Bengal cat?
Bengals are very persistent cats. If it opens, they can probably get in if they really wanted to get at something. There are times when they're a handful, but it's just part of the breed in the end. They're a loving and active breed that they want to be engaged with.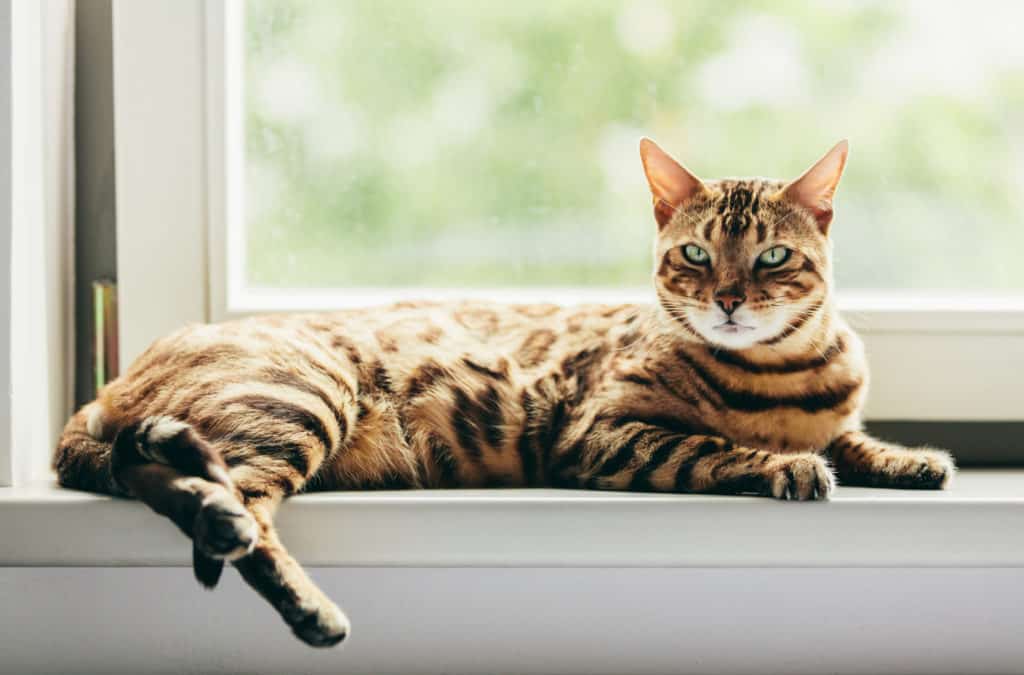 So how do you discipline a Bengal cat? If you're looking for ways to punish or discipline a Bengal or another cat, it's going to affect your relationship with your cat negatively. The best way to guide a Bengal cat's actions is by setting up its environment so that it doesn't want to "misbehave." Through having a 1. yes/no environment, 2. play therapy, and 3. using a bit of misdirection, it's simple to get a Bengal or any cat, in general, to be guided in the right direction.
What Are Some Common Behavioral Problems in Bengal Cats?
Bengals are domestic cats like any other cats, but they can be more prone to behavioral issues if their owner is not prepared for them because of their high activity levels!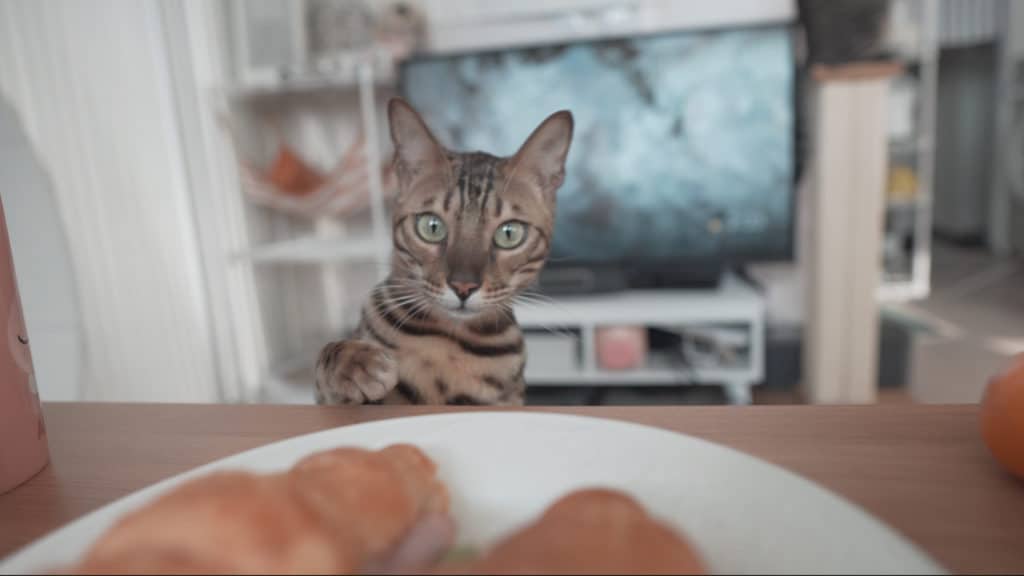 Some of these problems might include:
Continuously trying to get onto the countertop and sink – could be many reasons, either to get to a high vantage point, the sound of running water, or the smell of leftover food in the sink.

Getting into cabinets and drawers – cats have seriously sensitive noses, most house cats will smell and won't act. Bengals will smell the goodies and go retrieve it.

So hyperactive that they bother you or other animals around the house – Bengals are one of the most energetic cat breeds. As kittens, Bengal cats are lovable monsters and do "calm down" a bit as they age but for the most part, retain their highly active personality.

Biting, scratching inappropriate things, or being destructive – Bengals are proactive, they love to hit and bite things, just to see how it would react. If it was up to them, they'll play everything until it's not fun anymore and move on to the next thing.
For Bengal cat prices and other important information, read: How Much Do Bengal Cats Cost?
Why Can't You Discipline or Punish a Bengal Cat?
A cat can never understand "discipline" or "punishment." Bengals are no different no matter how smart they are compared to other cats. Any physical punishment or discomfort/pain you might cause to punish them will be taken as inexplicable aggression. It will seriously negatively affect your relationship with your pet.
What makes a cat tick is how they act upon their instinctual nature. Instinctual means acting upon something innate to them. They can't control it even if they could speak to us.
It's why kittens know where to go to the bathroom (the litterbox), where there is some granular material with little to no instructions from their mother!
So rather than punishing a cat for doing something that they would do naturally in the wild, we must instead provide the proper stimulating alternatives in their environment so that they can explore and interact safely.
What Are Some Ways to Prevent Misbehavior in Bengal Cats?
Bengals cats are basically house cats on some cat speed. If your cat is bored and is batting things off of tables, well, you better believe a Bengal cat will bat at it and maybe take it apart for fun. If your cat is getting into cabinets, you should expect a Bengal to get into a cabinet and then drag out whatever smells good to eat.
For those that are short on time, here are some quick ways to prevent misbehavior & non-directly discipline your Bengal cat:
Use a Yes/No Environment to Correct a Bengal Cat's Behavior
Consider your environment whenever you take in a Bengal cat. Remember, a cat always acts upon its instinctual needs above everything else. While this might sound like you have to change everything about your room, all it takes is a couple of changes!
The concept of a Yes/No environment means to have places where cats know instinctually, feels good to use (Yes), and places that aren't as comfortable or appealing (No). We can provide the Yes places quite easily by giving them instinctually satisfying alternatives and deterring them by having something they dislike, whether texture or smell, near that surface or area.
For the No surfaces, putting things uncomfortable for cats such as double-sided sticky tape or strong smells like citrus (orange peels and scents).
It creates unpleasant feelings for the cats when they go on it. As a result, they associate these uncomfortable things with these surfaces, creating the habit of staying off these surfaces.
Example Solutions
Suppose your Bengal cat is going onto countertops. Take a look around you. If the countertop is the tallest place they can get to, it makes sense that cats will want to get on it.
Cats will always try to get to the tallest place because survival traits pass through their ancestors. It provides safety and a good spot to survey its surroundings. Bengals also love to climb whenever they have the opportunity. Having multiple high perches will make the countertop or any other human surface not as appealing.
Leave an orange peel or two on the countertop for a few days and see how the cats react. Most cats hate the strong smell of citrus and will try to avoid it! After a while, you can take the peels away as they learn to avoid them.
If your Bengal cat goes into drawers. Then it's because they smell something in there to eat, and they will somehow get in there. Bengal cats are persistent and smart, a terrifying combination. So either put the snacks or food in a place in which requires a human touch to open (like a place with doors or latches) or put the snacks in a sealed bag so that they cannot smell it.
If need be, tape some cabinets shut. There are also specialized latches made so that it is difficult to open. Therefore, it's best to treat your Bengal cat like a newborn baby, and Bengal proof that home!
You might say you already have a cat-scratching post. However, if it's not sturdy enough and tall enough to stretch out their full bodies, they will prefer a couch instead.
A couch has a wide, stable base and allows them to stretch out. Therefore having a taller and more stable scratching post is important. They will rarely ever scratch furniture intentionally with a well-built and proper scratching post.
I recommend the Smartcat Ultimate Scratching Post! I am still using it after over a year of use! You can view the full review here!
Use Play Therapy and Hunting Activities to Curb Aggressive Behavior in Bengal Cats
The last two common behavioral problems are probably the one that is most offensive to people. Biting, scratching, and in general being a nuisance whether it's to you or other animals in a home. People have a hard time dealing with "aggression."
One of the main instinctual needs for a cat is to find something to hunt and kill. There should be things in a cat's environment (your apartment) to help encourage this behavior.
What makes a cat bored? Not enough hunting (i.e., play). Bengal cats require a lot of attention and play, especially when they're younger. Once they get out of their crazy kitten phase, they become a little mellower but still active.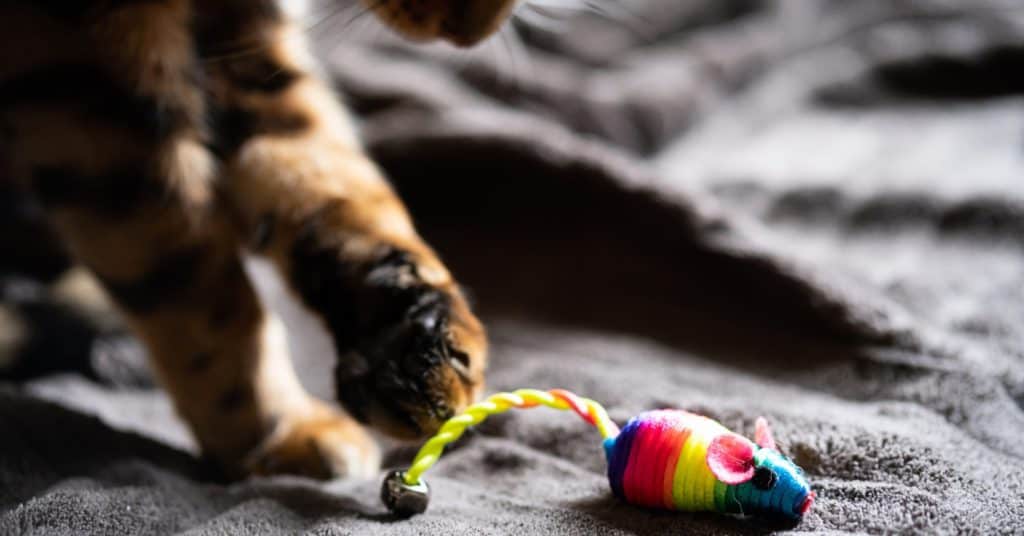 Tiring out a Bengal cat is one of the best ways to control their actions.
Example Solutions
If your Bengal is aggressive and giving bites or having some destructive behavior in your home. It's time to schedule more playtime with them. Remember, playtime means hunting time. This doesn't mean using your hands to play with your Bengal unless you want him to start thinking your hand is a toy.
In general, how a cat hunts in the wild is how you want to simulate it in your own play with your Bengal. Bengal cats love interactive wand toys and love a good session of hiding and seek! For a more detailed article about play and hunting, please read about it here!
Use Misdirection to Redirect a Bengal Cat's Behavior
Another great behavior correcting tool is misdirection. Basically, the goal of misdirection is to "direct" that negative behavior onto something else. Therefore, not stopping the specific behavior but allowing them to act it out on something that might be more acceptable.
Again, cats are habitual animals, and all habits are hard to break. So, it's actually a lot easier to replace a habit rather than breaking one.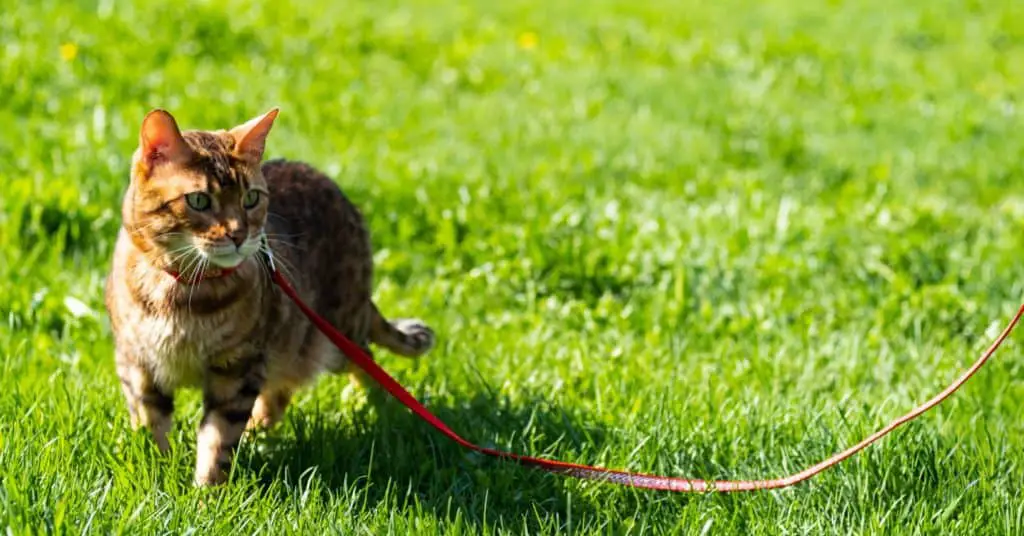 Example Solutions
This allows them their focus to go to the toy instead and start to learn that some items are for play and some things are not (like your hand or thigh). When my Bengal was a kitten, I always had some small toy in my pocket. At that time, he loved to nip at ankles and feet. So, as soon as he would try to bite on my feet, I would throw the toy to the other side of the room, which kept him busy. Now, he never bites any feet or hands.
The toy wasn't extraordinary either. It can be anything they enjoy playing with. My Bengal loves his sponge ball. Whenever he was overactive or overly rough, it was an easy toss of the sponge ball, and his attention is directed away from whatever he was doing. Super useful for those times when you're in a pinch, and you need to deal with your Bengal or hyperactive cat quickly.
How Companionship Affects a Bengal Cat's Behavior
Bengal cats adore the company of other cats. Because of this, Bengal cats are best adopted in pairs or with another cat friend with similar activity levels. Of course, they can expend energy on each other, but more importantly, learn the boundaries of play.
As cats wrestle as kittens, they let each other know when it's too rough and learn to inhibit their own bites and force. Also, with their focus being on each other most of the time, it allows you some breathing room in playtime and training.
Watching cats play with each other is also a joy to observe! Although playtime with you is important, having your cats keep each other company while you're away or working is great for their mental health and probably your mental health as well so that you aren't their sole source of fun and activities.
Conclusion & Comments About Bengal Cats
In conclusion, Bengals are beautiful creatures with a lot of energy and are incredibly proactive, which sometimes can be misunderstood.
Bengal cats are sometimes definitely crazy, but in the end, they're like any other cats with instinctual needs to be filled. And, with a little bit of preparation, I think anybody can own and raise a Bengal cat.
I adopted my Bengal in my one-room studio apartment, and it was quite the experience and would do it again in a heartbeat! It was a hectic but ultimately a rewarding experience now that I have a well-socialized Bengal buddy that is always up for whatever I want to do with him!
If you have any other ideas and ways you guide your cats, be sure to leave a comment!
Recommended Products to Create a Stimulating Environment
For the complete list of the toys that are the most effective at controlling our Bengal cats – visit it here: Best Toys For Indoor Cats (That Are Actually Useful)
One of the best items I would recommend for an active Bengal cat is a cat exercise wheel (click here to see which cat wheels I recommend!). While expensive, it's such a good passive way for your Bengal to get rid of their excess energy. Bengal cats are naturals at using cat wheels and most of the time, they don't even need to be trained.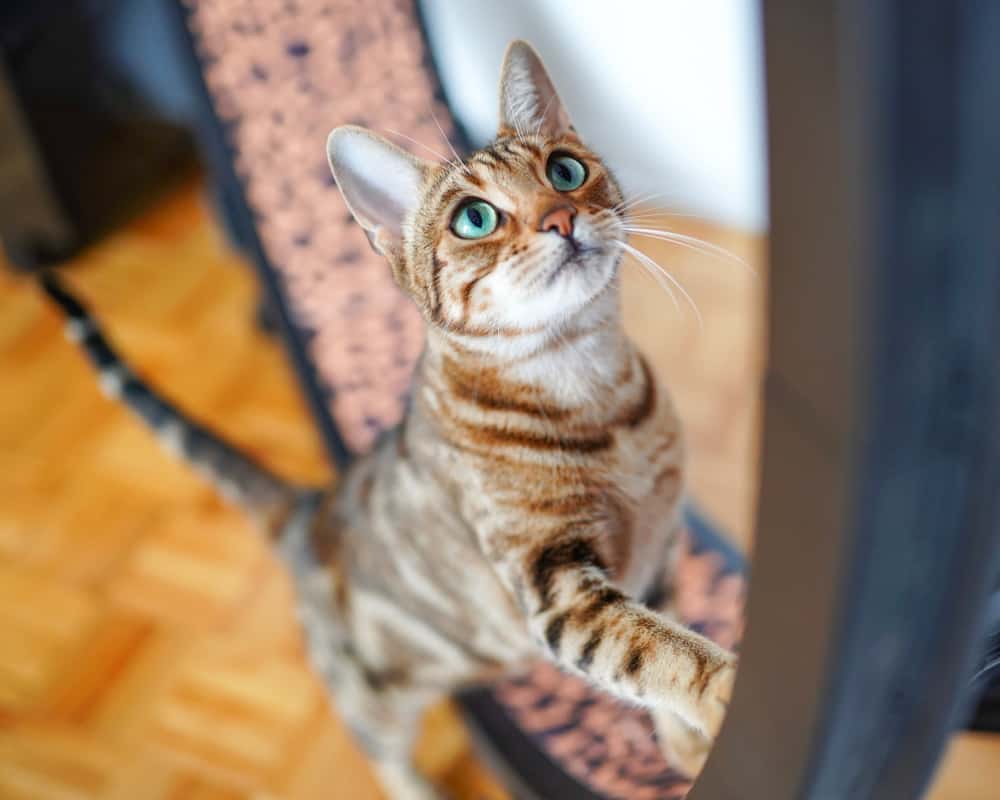 As you play with your Bengal, not once, but daily, or as much as you can depending on his energy level, you will find that their so-called "aggression" or "destruction" is just boredom. They're brilliant cats that need stimulation, and without that stimulation, they will find it by themselves.
Recommended Products to Behaviorally Correct Bengal Cats
These are the products that I recommend whenever you're dealing with a naughty Bengal cat:

1. Cat automatic deterrents
2. Matatabi sticks (to provide something they can bite)
3. Sticky paws (creating uncomfortable sticky surfaces to step on).

These are tools that are not only effective but also doesn't negatively affect your relationship with your cats.